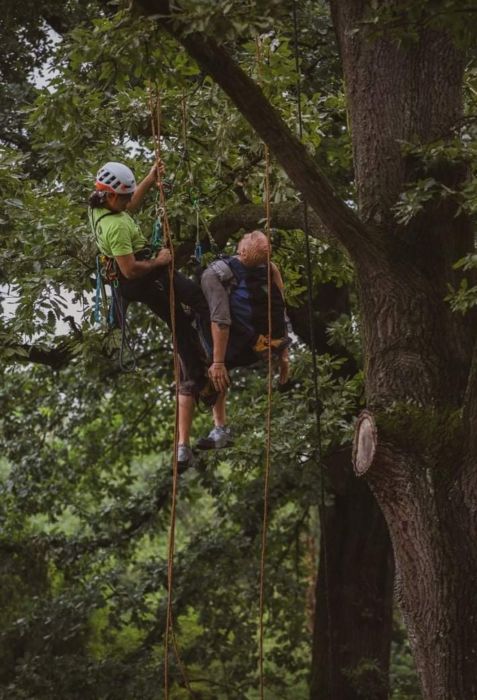 The Hungarian Cave Rescue Service (BMSZ) has a 24/7 hotline which can be called by anybody who needs either cave rescue, mountain style rescue or stuck paraglider rescues. In the last years there were an increasing number of calls by paragliders stuck on trees. Therefore a special Volunteer Tree Rescue Force was organized. People getting stuck on high trees either by sport accidents or by doing professional tree care work require special tools and trained rescuers to safely get out the situation. This newgroup has 76 active members from a variety of organisations, (Budapest Rescue Organisation, BMSZ etc) both volunteers and off duty professionals.
Every member is capable of moving at hight, climbing on trees and also performing rescues due to their daily jobs or special trainings like professional tree care, industrial rope access, mountain rescue or cave style rescue. The BMSZ Hotline is distributed among the National Emergency Services and the "Hungarian 911" on call service so in this situation the new Volunteer Tree Rescue Force can be altered either by civilians or by the national services. The Hungarian Cave Rescue Service's 24/7 on call dispatch receives the calls and organises the volunteers nationwide, and dispatches small to large groups according to the seriousness of the situation.
One of the first alerts we received on 1st April 2021 was made by the Budapest Directorate of Disaster Management. A man working on a tree got stuck by a fallen log and was seriously injured while being unable to climb down on his own. BMSZ Hotline Dispatch alerted the Volunteer Tree Rescue Force at 12:44 and the first rescue group arrived on site 13:04. Fortunately, by then the National Firefighters were able to reach the victim sooner and lifted the heavy log off him. He suffered serious injuries, broken waist and leg. He was transported to the nearest hospital.
We are glad that the coordination between the official firefighters, the BMSZ Dispatch Service and the coordination of the new task force went perfectly with very quick response times. We congratulate the Hungarian Disaster Management's firefighters for the quick and successful rescue and wish the victim a quick and full recovery!
Photo: 6th Hungarian Tree-Care Championship - Pick-off competition (illustration)