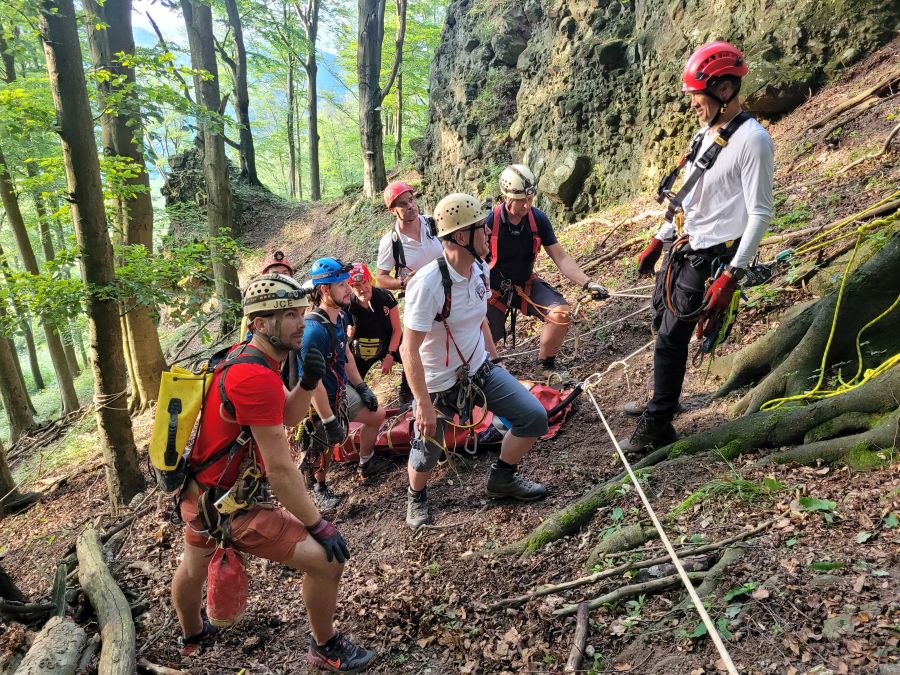 On July 8, 2023, Dr. B.I., 73, was hiking in the Pilis with his wife and friends near Dobogókő on the Thirring trail. Shortly after 16.00 h, he stepped into a pit on the hiking trail and twisted his ankle, hurt himself and could not stand.
His family members alerted the Hungarian Cave Rescue Service (BMSz) on the basis of an alert sticker seen on Dobogókő. One group of our cave rescuers went from the warehouse with rescue equipment to the scene, another group went straight to Dobogókő.
AFrom the car park, it is possible to reach the site, which is located at the foot of the Thirring cliffs, under vertical walls, by walking a kilometre through the forest, descending 100 metres in the meantime.
The first team with the BMSz doctor arrived at the site shortly after 18h00 and started treating the injured.
The injured limb was secured and the man was placed in a special cave rescue stretcher - a suitable way to transport the patient in difficult terrain. While the injured man was being treated, the rest of the rescue team started to set up the ropeways for the transport.
At 19:09, the transport of the casualty began, with the decision of the team leader to use rope techniques to transport the casualty over the steep, forest terrain between large rocks. After overcoming a 100-metre difference in elevation, the stretcher was transported on the tourist road on the upper, almost horizontal section to the car park.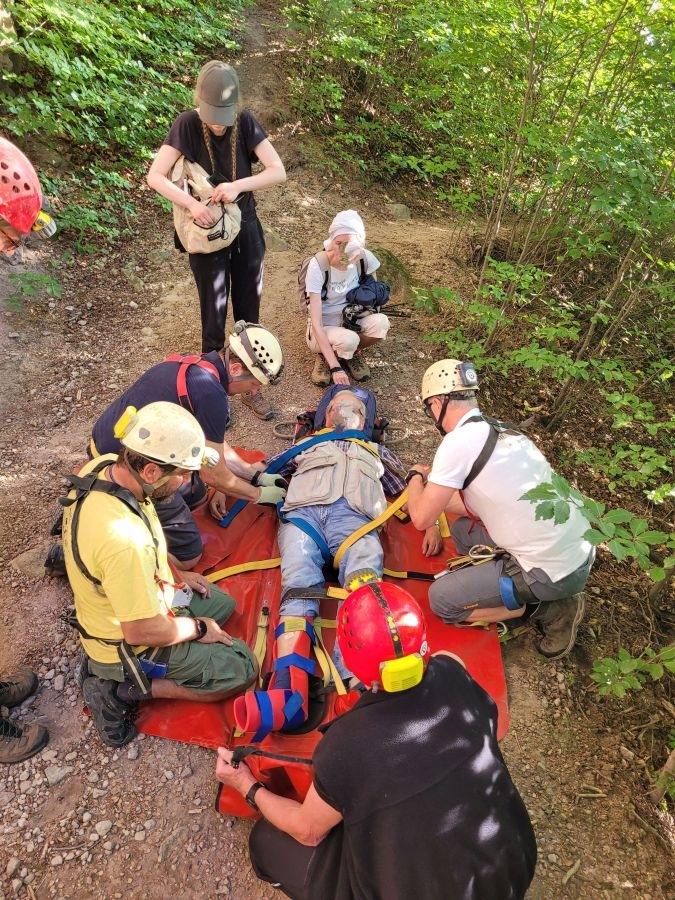 Fifty minutes later, one minute before 8 p.m., the casualty was handed over to the National Ambulance Service (OMSz) unit in the parking lot at Dobogokő, who transported him to the traumatology department of the St. John's Hospital in the area.
Tests at the hospital revealed that the gentleman had multiple ankle fractures, which will probably be operated on later tonight.
The area around Dobogókő is a popular hiking destination, not far from Budapest in the heart of the Pilis Visegrád Hills. Many easy and difficult hiking trails start from here, with beautiful views and imposing rock formations, frequented by hundreds of people on a weekend day. The Thirring Circuit, starting from Dobogókó, is a nearly two-and-a-half kilometre long trail with a 133 m altitude difference, winding through the beech forest between volcanic rock formations (click here for details).
18 cave rescuers (including 1 doctor) were involved in the rescue. We wish the gentleman a speedy recovery and a quick healing!
The letter of thanks from the family of the injured can be read by CLICKING HERE.
Photos by Viktor Izápy