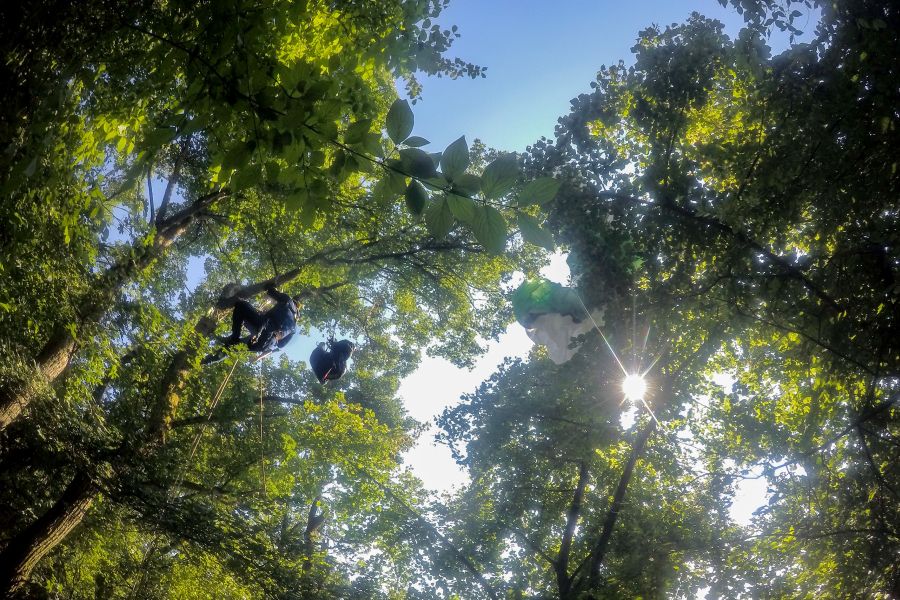 On July 14, 2018, at around 12:20, a paraglider got into trouble shortly after taking off from the start point at Vértesszőlős. In the windy weather, an unexpectedly strong current blew him away the pilot landed on top of a tree in the forest below. He had no injuries and was able to notify the competent authority of the Free Flyers Association. At 12:28, the Free Flyers Association asked the Hungarian Cave Rescue Service (BMSZ) to help rescue the pilot and the paraglide.
BMSZ arrived at the border of Vértesszőlős at 15:40 on the landing meadow used by paragliding athletes with two cave rescuers, an off-road vehicle, mountaineering equipment, pruners and telescopic handles, and began searching for the pilot.Following the guidance of the nearby paragliders we found the pilot at 16:10 after about a 2 km hike.
Upon arrival, the 40-year-old pilot was sitting in the fork of a tree standing on a steep hillside, 8-10 meter high.
After landing at the tree, he found it safer to climb out of his harness and wait for help on a stable tree rather than in a seat trapped between thin branches. In the absence of the necessary means of self-rescue, he wisely did not attempt to descend to the ground on his own. He had no injuries and endured hours of waiting in the scorching heat. We gave the pilot a rescue harness and we were able to lower him to ground level in a few minutes. We were able to free the paraglide with about 40 minutes of meticulous logging, despite the fact that we had to make cuts on several trees to achieve this.

The unfortunate pilot did not ask for further help, so the BMSz left the scene at 17:00 after collecting his personal and contact information.

The Hungarian Cave Rescue Service has been in contact with the Free Flyers Association for many years, in return they support the operation of the BMSz every year from their budget for such cases.

We wish paragliders a lot of pleasant takeoffs and the same amount of safe landings for the rest of the season!