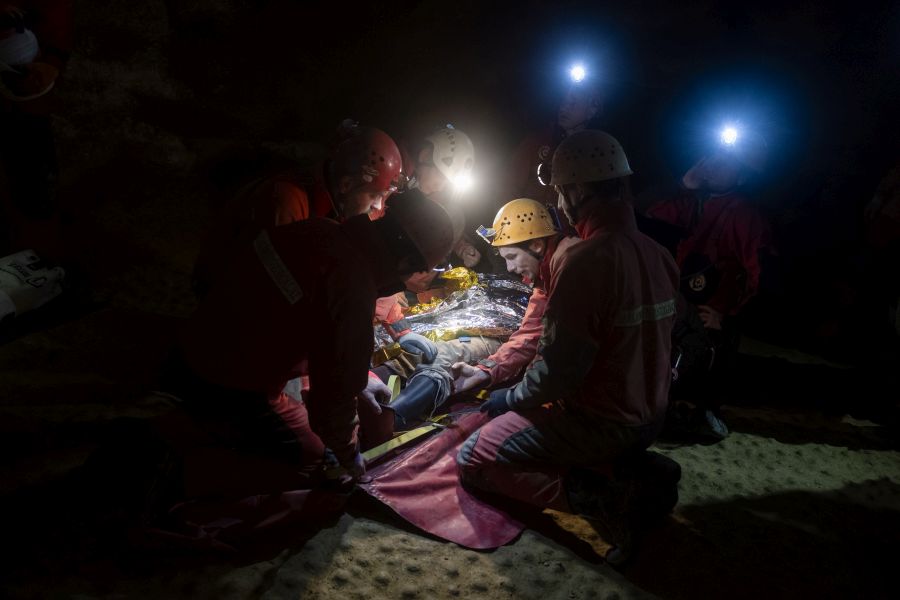 On 19 December 2019, a young woman was rescued from Mátyás-hegyi Cave by the Hungarian Cave Rescue Service.

Early in the evening we got an alert that a 32-year-old woman had suffered knee injury at 6:40 p.m. in the Theater Hall of the Mátyás-hegyi Cave, about 300 meters from the entrance, at a depth of 30 meters.
Twenty-six rescuers of the Hungarian Cave Rescue Service immediately went to the location where we provided medical treatment for the injured woman.

After the medical treatment, we placed her into a stretcher designed for special rescue purposes and carried her to the surface within one hour, then we handed her into the care of the National Ambulance Service.
The Mátyás-hegyi Cave is part of the Pál-völgyi-cave system, which is the longest cave system in the country. Its passages add up to 32 kilometers. The Pál-völgyi Cave part of the cave system can be visited by everyone, while the Mátyás-hegyi Cave offers organised and guided adventure caving tours.
Today's accident happened on a guided caving tour of the Verocs Movement- and Adventure Therapy Department of the Hungarian Karst and Cave Research Society.
The department has been touring children with mobility, visual and hearing impairments in the cave for therapeutic purposes with a great success and results for 20 years. The children have never had any accident during these tours. The activities of the department are unique in the world.
Photos: Márton Kovács